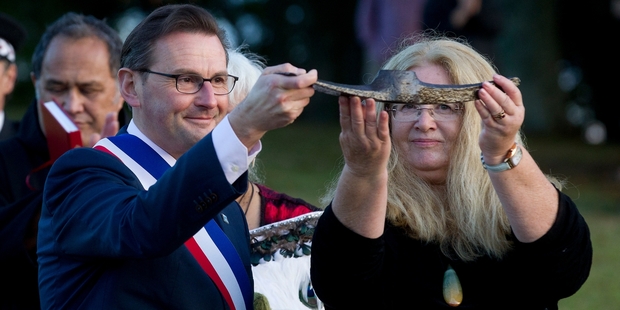 Beneath Arras, the men spent long, dark days digging a vast underground military system housing kitchens, hospitals, headquarters and enough room for nearly 20,000 men.
The company also played a combat role in laying mines beneath nearby enemy lines, and "counter-mining" when their German counterparts tried to do the same.
"They stayed there on the frontline for two years, and while they were they were shot at, shelled, gassed and caught when caves fell in," Waihi Heritage Vision chairman Kit Wilson said. "People seem to think of them as non-combatants, but it really was front-line service."
Mr Wilson said Waihi's 7.5m memorial, to be completed next year, symbolised the "calling home" of the spirits of the tunnellers who died.
About 90 of the tunnellers came from Waihi, and the memorial's foundation stone had been brought from the Hauraki town's historic Martha mine, where many of them had worked before the war.
Another stone was laid by a delegation representing the handful of Cook Islanders who served alongside the tunnellers.
The French delegation included Arras Mayor Frederic Leturque, who brought with him a pick that had been used by the tunnellers, and Isabelle Pilarowski, director of the Wellington Carriere, a museum in Arras.
Mr Wilson said another monument, The Earth Remembers, would be finished for the centenary of the Battle of Arras in April 2017. NZME.