Showing This Week

To December 13th 2023 Tauranga
For details, go to https://www.luxecinemas.nz/
(Choose Tauranga and/or Papamoa)
Napoleon 
Napoleon is a spectacle-filled action epic that details the checkered rise and fall of the iconic French Emperor Napoleon Bonaparte, played by Oscar®-winner Joaquin Phoenix. Against a stunning backdrop of large-scale filmmaking orchestrated by legendary director Ridley Scott, the film captures Bonaparte's relentless journey to power through the prism of his addictive, volatile relationship with his one true love, Josephine, showcasing his visionary military and political tactics against some of the most dynamic practical battle sequences ever filmed. (In English)
Trailer : https://www.youtube.com/watch?v=Waf2_SeRWnc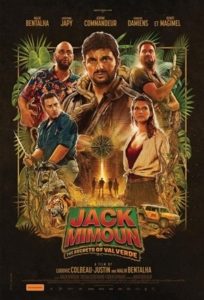 Jack Mimoun et les Secrets de Val Verde
Indiana Jones meets Monty Python in this hilarious comedy adventure. Having found fame as a modern-day Robinson Crusoe by seemingly surviving alone on the desolate tropical island of Val Verde, French action adventurer Jack Mimoun, has made a name for himself as an adventure star. With a best-selling book, television show and stellar reputation – Jack appears to be the man of the moment. Unfortunately, his on-screen persona, the 'Survivor of Hell' is all a giant fabrication…
Jack Mimoun est devenu une célébrité. Deux ans plus tôt, cet aventurier a survécu dans l'environnement hostile de l'île de Val Verde. À son retour, il a raconté cette expérience dans un livre, devenu un best-seller. Aujourd'hui, Jack a également son émission de télévision, qui est elle-aussi un véritable succès. Il est alors contacté par Aurélie Diaz. Cette dernière veut se lancer dans la quête d'une légendaire épée ayant appartenu à un pirate surnommé « La Buse » et souhaite que Jack l'accompagne. Le reste de l'équipe est composé de Bruno Quézac, le manager de Jack, et du mercenaire Jean-Marc Bastos.
Trailer: https://www.youtube.com/watch?v=HCrZO81_cLI&t=2s

Dear Flora /For You Flora (Pour toi Flora)
This is a mini series  on Maori TV . You may get it on On Demand.
https://www.maoriplus.co.nz/details/TV_SHOW/collection/6335464522112/dear-flora-aka-pour-toi-flora

"Pour toi Flora" is the story of Algonquin siblings, who spent their youth in an Indian Residential School in the 1960s in Canada and who are now trying to make peace with this painful past. From the moment they were forcibly removed from the parents by religious authority to the events that led them back to each other forty-five years later, this dramatic mini-series intertwines different times in their lives to tell the story of one Indigenous family's forced estrangement and the path it took to heal.
Pour toi Flora est une mini-série télévisée québécoise en 6 épisodes de 43 minutes, écrite et réalisée.
Il s'agit de la première série dramatique autochtone de Radio-Canada.
L'œuvre de fiction s'inspire de faits réels et aborde l'héritage douloureux des pensionnats autochtones au Québec.
Un frère et une sœur d'origine Anishnabe sont arrachés de force à leurs parents par les Oblats, dans les années 60, afin qu'ils intègrent un pensionnat catholique "indien" pour y être assimilés. Ils y subiront des sévices physiques et psychologiques traumatiques. Des décennies plus tard, ils tentent de faire la paix avec leur passé douloureux.
Trailer: https://www.imdb.com/video/vi4124951065/
Also on TV5 Monde Plus
https://www.tv5mondeplus.com/fr/series-et-films-tv/drame/pour-toi-flora

Two Tickets to Greece (Les Cyclades)
From December 26th…
Recently divorced and watching helplessly as her only son leaves home, Blandine is struggling to find her footing again. So, when her former best friend Magalie, loud and fearless, suddenly resurfaces, she allows herself to be spontaneous for a change… the two will take the trip they always dreamed of as teenagers, to Amorgos. But as they head off towards their destination, it's soon apparent that Magalie's very different approach to holidaying – and to life – could lead Blandine to her breaking point… and beyond!
Two tickets to Greece is an out and out crowd pleaser, a breezily delightful tale of female camaraderie, stoked by laughter, tears and of course, great scenery.
Adolescentes, Blandine et Magalie étaient inséparables. Les années ont passé et elles se sont perdues de vue. Alors que leurs chemins se croisent de nouveau, elles décident de faire ensemble le voyage dont elles ont toujours rêvé. Direction la Grèce, son soleil, ses îles mais aussi ses galères car les deux anciennes meilleures amies ont désormais une approche très différente des vacances et de la vie.