La Toussaint – le 1er novembre
C'est la Toussaint. Comme son nom l'indique, la Toussaint est la fête de tous les saints. Chaque 1er novembre, on les honore tous.  En France, c'est un jour férié. La date tombe au milieu des vacances scolaires – de la Toussaint.Les familles vont dans les cimetières dès le 1er novembre pour se recueillir sur les tombes, les nettoyer, et y déposer des chrysanthèmes.

Mais en France, il y a de plus en plus de gens qui optent pour la crémation.

Le coût rentre en jeu. Une crémation est, par exemple, fixée à 1 614 euros, contre 2 027 euros pour une inhumation.

Le tarif des concessions est également plus faible pour louer une case au columbarium (250 euros sur dix ans), où les familles peuvent déposer les urnes funéraires, que pour une concession pour inhumer (400 euros pour une période équivalente).

Le mot « columbarium » vient du latin pour colombes.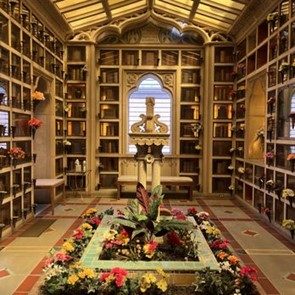 Questions

:

1. Which saints are celebrated on 1st November ?
2. Do people work on November 1st ?
3. What do they do ?
4. What are becoming more popular in France ?
5. Which is cheaper – a cremation or a burial ?
6. What is the price difference ?
7. A niche in a columbarium costs 250 euros. How long is this for ?
8. What is the cost of a burial plot?
9. And how long is this for ?
10. What is the origin of the word columbarium ?