The Everyday French Chef (see below) has heaps more to say about  the 'quintessentially French dish of radis au beurre'.
But there is also heaps more you can do with the little radish as well.  Are you ready ? (Ail ou radis ?)
Have fun.
Pan-cooked radish
Put shallots in some butter & oil with the radishes, cook them up about 10 minutes and add chives.
The real recipe is here https://www.aufouraumoulin.com/radis-poeles-beurre-ciboulette/
You can add beans,  turnips, sesame seeds or various herbs – who is not a Master Chef in the making ?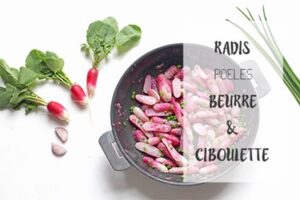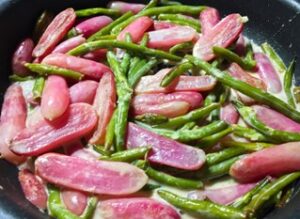 Radish leaves (Les fanes de radis)
Chef Simon says that as the attitude to wastage as changed, the humble radish leaves have become one of the items that are no longer thrown away.  They can be used in a variety of dishes bringing a lightly taste of pepper to recipes. They can be used to make pesto, soups and savoury muffins. And  of course, added to the butter in the raw dish.
Check out his ideas here https://chefsimon.com/recettes/tag/fanes%20de%20radis  pesto potage, soupes et muffins salés…