sadfrog le 9 janvier 2023
Je viens de regarder le film « L'Incroyable histoire du facteur Cheval ». Je l'avais raté lors de sa sortie en 2018 et je voulais savoir un peu plus sur cet homme célèbre. Il était peu bavard, donc le film n'a pas énormément de dialogue.
Fin XIXème, Joseph Ferdinand Cheval, est un simple facteur qui parcourt chaque jour la Drôme, de village en village. Solitaire, il est bouleversé quand il rencontre la femme de sa vie, Philomène. De leur union naît Alice. Pour cette enfant qu'il aime plus que tout, Cheval se jette alors dans un pari fou : lui construire de ses propres mains, un incroyable palais. Jamais épargné par les épreuves de la vie, cet homme ordinaire n'abandonnera pas et consacrera 33 ans à bâtir une œuvre extraordinaire : "Le Palais idéal".
Lorsque j'ai visité le « palais », je suis restée vraiment éblouie devant cet exemple unique d'architecture naïve.
More info: https://www.frenchwithshelley.co.nz/index.php?id=216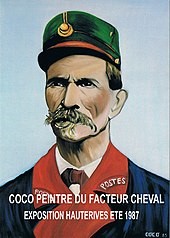 Hauterives is situated 30 miles north-east of Valence and welcomes over 120.000 tourists a year thanks to a fantastic, extravagant monument that is unique in the world.
The « Palais Idéal » built by Postman Cheval, combines aspects of a khmer temple, a mosque, a hindu sanctuary, a feudal castle, a Swiss chalet and the manger in Bethlehem.  All around, a host of ostriches, geese, eagles and flamingos flap their wings tirelessly, while on high, angels soar and, reunited for the occasion, Julius Caesar, Vercingetorix and Archimedes mount the guard.
Postman Cheval was a humble postman in the village of Hauterives in the picturesque Drôme department of Southern France. An ill-educated, little-travelled postman who would single-handedly construct a magnificent temple to nature now classified as an historical monument in France, his 33 years of blood, sweat and tears now feted by artists and intellectuals alike. Not bad for someone who the locals liked to classify as the village idiot.
Ferdinand Cheval's round consisted of 32 kilometers a day, often covering broken ground with poor access, steep climbs and a difficult, rocky terrain. For ten years he would walk the same route. During this time he would sleep in barns, warm himself by the fire of a friendly farmhouse, before setting off again on his long and lonely rambles in all weathers. Deep in his solitude, Ferdinand would make his way – a mystic, a visionary, wandering off towards the unknown. Although he never quite understood the meaning of his strange visions experienced in what he would refer to as "trance-like state" – he was for a long time haunted by images of a dazzling palace. Then one day in 1879 "le facteur Cheval", as he was known, tripped on a stone…(which) reactivated his secret dream of building a palace – a fantastic castle. Returning to the same spot the following day, he gathered a series of even more attractive examples. He began to collect them, filling at first his pockets, then baskets – and finally a wheelbarrow.
"There is a long way to dream from reality", as the legendary postman himself put it. Indeed. 10,000 days, 93,000 hours and 33 years of toil – to be precise – the first two decades being spent on the outer walls alone. "Should there exist a more determined man than myself, then let him set to work"…Gathering together 40 kilos in small heaps, he would return to fetch them at night with his wheelbarrow, thereby adding between 8 and 20 kilometres to his round each day, quite apart from the incredible work he would perform on the construction itself…
Postman Cheval, in his own words, said "I was the first to agree with those who called me insane; I was not a builder, I had never handled a mason's trowel; I was not a sculptor.  The chisel was unknown to me; not to mention architecture; it was a field in which I remained totally ignorant".
When Malraux saw the « Palais Idéal »in 1969, he considered the work "a unique example of « Art Naif » and had it put on the list of historical monuments to ensure its protection. Intellectuals lauded Postman Cheval as a genius.
Postman Cheval began building the « Palais Idéal » in 1879.  On his retirement in 1896, he continued building full time and the final stones were laid in 1912. He then proceeded to build his own vault in the parish cemetery.
Answer to the riddle:
Without the last piece of information, there are two possibilities.  The girls could be 9, 2 and 2 or 6, 6 and 1. However, when the lady speaks about her eldest daughter, the answer can only be the girls are 9 years old and two and two.
The riddle had nothing to do with Postman Cheval himself.