Votre Horoscope du 9 octobre selon Gorafi
One of this month's weekly horoscopes that appear on the French satirical website Le Gorafi.
Bélier : Vous tomberez d'une falaise en voulant faire votre intéressant(e). Arrêtez.
Taureau : Vous aurez un débat animé au sujet de l'expression « un péché mignon ».
Gémeaux : On vous enverra en mission pour dérober la recette secrète de la sauce Biggy Burger. Les chances de vous revoir en vie sont minces.
Cancer : Si vous êtes une jeune femme mineure, le fantôme de Claude François vous rendra visite.
Lion : Il n'y aura plus votre pizza préférée au rayon surgelés. Ça vous plombera la semaine.
Vierge : Vous rentrerez chez vous et vous constaterez que des loutres ont squatté votre logement.
Balance : Si c'est la semaine de votre anniversaire, vous recevrez une lettre d'un admirateur secret.
Scorpion : Votre N+1 vous demandera d'apprendre la langue bretonne en urgence, pour faire bonne impression auprès de fondamentalistes brestois.
Furet : Continuez sur votre lancée, vous êtes un « killer ».
Sagittaire : Mercure vous conseille de quitter votre famille, votre travail et votre pays pour tout recommencer sous le nom de Hans Schmidt.
Capricorne : Vous porterez des chaussettes dépareillées pour vous démarquer des autres.
Verseau : Des macronistes vous parleront en franglais pour vous impressionner. Renversez-les avec votre voiture.
Poissons : On vous informera par courrier recommandé que vous devez remplacer Tyson Fury face à Francis N'gannou le 28 octobre. Entraînez-vous un peu.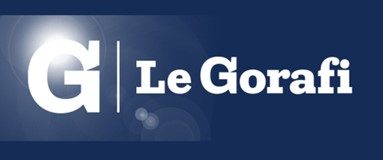 www.legorafi.fr
Find the French words/expressions for

:
to show off
a guilty pleasure
to steal
chances are slim
frozen food aisle
to drag down
 an otter
your immediate superior
keep the momentum up
odd socks
overturn
registered mail