Le village la plus ensoleillée de France en mai
Une petite commune du sud de la Bretagne est désormais auréolée d'un titre honorifique. Plovan, ce village de 683 habitants, jusque-là célèbre pour son « cordon de galets » (image ci-dessous), a été la ville la plus ensoleillée de France en mai.
Le village breton arrive en tête avec 302 h 53 minutes.
Une résidente craint que ce mois de mai record « laisse penser aux gens qu'il fait toujours beau et chaud » : « On vient ici pour découvrir la diversité des paysages, la richesse ornithologique, les falaises, les ports de pêche.  Ce sont des gens qui viennent randonner et sont attachés à la nature.  J'espère que la pluie continuera à nous préserver d'un tourisme de masse. »
Image : L'église de Plovan dans le Finistère, sous un beau soleil.
Extrait de l'article de Ronan Tésorière
www.leparisien.fr  le 13 juin 2023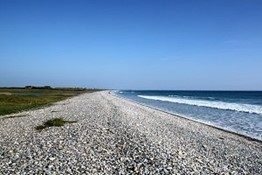 Questions
What has Plovan been famous for up until now ?
What kind of people come to the Plovan area ?
Why has the village hit the news ?
How much sunshine did the village get in May ?
What does this resident hope the rain will do ?